Take a look through some of our most recent projects around the country.
Project Locations
Throughout the years we've invested in, developed, and managed a variety of different projects, including projects in the following areas: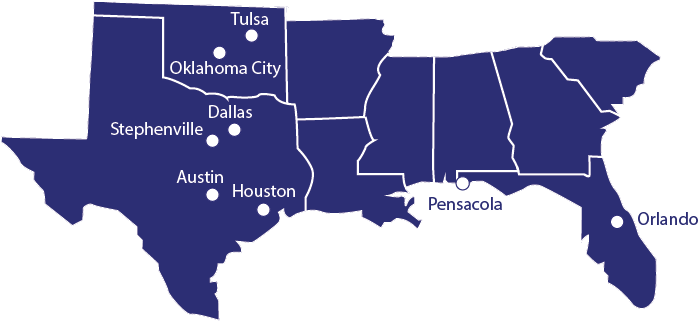 Take a look through some of our most recent projects below, including Montgomery Plaza, Parkview, The Shelby, and Rough Creek Lodge.
As a byline written about the project proclaimed "Architectural Feat Extraordinaire…and Right on the Button in Lifestyle Leadership".  This historic iconic structure formed the backbone for the catalyst that was the renaissance of the West 7th Street Corridor in Fort Worth.  The concrete structure stood for some 80 years before Marquis converted the buildings into 240 coveted luxury residences with structured parking and Amenity Deck.  We saw an opportunity in Fort Worth to bring a project to the market that didn't exist until now.
A single structure multifamily for sale project outside the city center can be risky.  However, "Parkview" designed by nationally recognized architects David M. Schwarz out of Washington D.C. has set the stage for another successful development.  This boutique 36 unit building located in Southlake Town Square, Southlake, Texas had presales of over 60% prior to construction start and will prove to be the success that was envisioned after a long campaign to get the special use permit for its construction.  Scheduled for completion late summer of 2019.
To learn more about Parkview, visit their website: ownsouthlake.com.
The Shelby Residences is a 55-unit Condominium project ideally located on SMU Boulevard adjacent to Southern Methodist University.  Prior to The Marquis Group's acquisition of the property, The Shelby was being operated as an apartment rental complex with average rents of $1.41. The Marquis Group took advantage of the projects physical condition, prime location, unit layouts, and adequate common areas to convert the project into luxury "for sale" condominiums.  By taking advantage of the lack of supply of affordable luxury condo's in the market, The Shelby performed better than expectations and provided a great ownership opportunity for buyers.
Doug Hickok and the Marquis Group serves as a General Partner and Limited Partner in the 5-Star Rough Creek Lodge and Resort in Glen Rose, TX. The main lodge consists of 50 guestrooms and suites. The property also has 7 guest houses and cabins that are available for rent across the 11,000+ acre ranch. In the Fall of 2017, the resort started The Residences at Rough Creek Lodge. The 33 unit project consists of individual for sale homes adjacent to the lodge. The first phase of the project is to be complete in the Summer of 2018 and nearly sold out. For more information please visit www.liveroughcreek.com.
Looking for more information or wish to speak with someone from Marquis Group? Get in touch with us today by phone or email, listed below. We look forward to hearing from you.
Address
4445 Buena Vista Street
Dallas, TX 75205